Bad News for Local Women
Tellus Díganos report on women and girls shows hard times for females in Monterey County.
by Brett Wilbur
June 03, 2004
On Wednesday, May 26, at the second annual Tri-County Women's Health Summit, Dr. Krista Hanni walked a group of women from Monterey, San Benito, and Santa Cruz counties through a Power Point presentation on women's health and socioeconomic issues.
Hanni, a research analyst from the Monterey County Health Department, compared the counties on population, ethnic makeup and health statistics. She said disparities in lifestyles along racial and ethnic lines put Monterey County's Latina population at high risk compared to Santa Cruz or San Benito counties, and compared to the rest of California.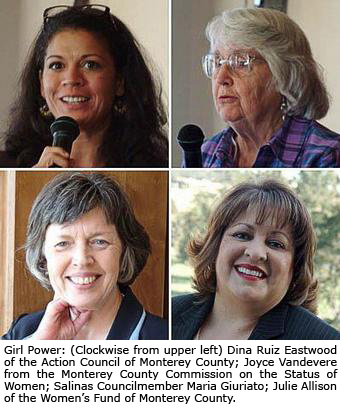 In Monterey County, she reported, 30 percent of females over 18 are lacking a twelfth-grade education—almost double the number in Santa Cruz County. In Monterey County, almost 26 percent of women over 18 are obese, more than twice the number in Santa Cruz.
Hanni summarized her talk with a color-coded chart. Monterey County was highlighted in deep pink shades, signifying its "worse than" position compared to the rest of the state.
"Monterey County has a lot of younger women, more Latinos, worse socioeconomic conditions linked to poor health outcomes," she said. "Santa Cruz County has less poverty, more education, and better health outcomes."
After Hanni finished talking, the room was divided into small group discussions.
"It's depressing," said Holly White, news and public information officer for Cal State University Monterey Bay. "It makes me think I should move to Santa Cruz."
At a table focusing on women's cancer risks, led by Judy Garrison, project director for a Monterey County cancer detection program, participants brainstormed how to get health information out to more women. The topic quickly turned to all types of health issues. Voices overlapped as women agreed that more outreach needs to be done.
"We need to start younger," said Tammy Macklin, who runs a teen center for the city of Marina. "I have teen girls at the center slapping their boyfriends in the face when they find out that they just got a sexually transmitted disease from them."
"There are programs for women at the federal poverty level that offer free health screenings," another woman offered. "But people don't know about them and it's hard to get into the clinics."
"We know there is a problem," Garrison said. "Would you be willing to meet once or twice before next year's summit and continue this conversation?"
Garrison passed around a sheet of paper. Every woman in the group wrote down her name and phone number.
After a break for iced tea and hors d'oeuvres, the second half of the conference began.
"With all this talk about health, I gotta say, they shouldn't have served fried food," one woman whispered, as moderator Dina Ruiz Eastwood walked to the front of the room.
Ruiz Eastwood, president of the board of the Action Council of Monterey County, introduced First Glance: Quality of Life of Women and Girls in Monterey County, a report prepared by the Tellus Díganos Center for Community Research, and sponsored by the Action Council and the Women's Fund of Monterey County.
"The study is an outgrowth of the 2002 women's summit," she said. "It was done on a shoestring budget with a lot of love and overtime."
Joyce Vandevere, from the Monterey County Commission on the Status of Women, then walked to the podium, and began to read from a poem written by a Monterey Peninsula College student:
A woman, I am—a Superwoman/Women are/Survivors, pro-creators, Life itself/Givers and Growers/Organizers, Builders and Do-ers…
"I have never felt like a superwoman, but the demanding roles of womanhood are so insistent that most of us become Superwoman in spite of ourselves," Vandevere said. "Superwomen, I salute you!
"Women produce a large share of the wealth in our county," she continued. "Women as well as men harvest the crops. On the Peninsula, when tourism took over, it was women who made the beds. Yet women have not shared equitably in the wealth it produced.
"That every woman in Monterey County will develop her potential and live a full and rewarding life is the vision we share. The roadblocks are discrimination, poverty, violence, lack of government services.
"The report on women and girls confirms and deepens our concerns about women in Monterey County. Our task today is to think creatively, but narrowly about solutions within the budgetary restraints of the County and of the private agencies that serve women…Life puts superwoman demands upon the women of Monterey County, as it does upon women everywhere. How can we help these women rise to the demands and live their lives in wholeness and joy?"
After Vandevere finished, Salinas City Councilmember Maria Giuriato came to the podium.
"This report provides us with a vision long needed in Monterey County," Giuriato said. "The data can push us to the next stage where women and young girls can thrive. The areas of weakness can force us to work harder to generate a new spirit of activism at all levels. We need strong coalitions of nonprofits and government agencies.
"Sometimes I go to meetings and I'm the only woman there, and certainly the only woman of color. We've got to help young girls and women become effective leaders. It's in all of you to become an advocate in some way."
Sherra Clinton, senior research analyst and project director for Tellus Díganos, concluded the speeches. She said that part of the point of the report is to learn what information is missing.
"We have data in the areas of economics, education, health, safety, and social environments," she said. "We did not include information if we couldn't do a gender breakout."
As Clinton spoke, a teenager holding a stack of reports quietly sat down at each conference table. Clinton mentioned that the girls are part of the Action Council's ECHO program—a program that runs support groups for at-risk girls, many of them Latinas, and trains them to become mentors to other girls.
"This report honors women and girls," Clinton concluded. "It honors their lives, acknowledges their challenges and obstacles, highlights their resiliency and capabilities, and power in the community. It is a gift to you."
Flipping through the reports being passed around the tables, participants noted harsh facts: The median earnings of men in Monterey County are 28 percent higher than women; 93 percent of all new mothers under age 18 in 2001 are Hispanic; and only 27 percent of girls graduating from public high schools in Monterey County had the required classes to apply to college.
"So our minds don't go to what we are making for dinner tonight, and so this report doesn't gather dust in the car or get filed away, there is an ECHO grad at every table," said Ruiz Eastwood. "They are going to be leading us in discussion today about the report. I think it's fabulous."
After the conference, the ECHO graduates took some information from the report—such as surveys on teen drug use—and went back to their high schools to spread the word.
Julie Allison of the Women's Fund of Monterey County said helping girls is the type of social investment that produces the greatest payoff.
"Forty years of research shows that helping girls yields tremendous returns, much more so than other types of aid," she said. "The reasons are complicated and may be misconstrued, but girls make decisions for themselves when they have children, how many children; these are really powerful decisions."
She said that a girl's coalition serving girls aged 10-20 is being formed in the county.
"We want to look at better outcomes for girls," she said. "Anyone working with girls will be asked to participate."
Allison pointed to a gap between service providers and philanthropists that the coalition is hoping to close.
"We have a lot of wealth holders in the county who don't necessarily have a connection with the service providers," she said. "We hope to have a happy marriage between the service providers and people who want to give back to the community, and that we can do so in a way that leverages our collective wisdom."
Articles reprinted courtesy of Monterey County Weekly
© 2004 Milestone Communications Inc. All rights reserved.