Everybody Waits
About 1,700 Monterey County kids canít get into preschool.
by Michelle Caldwell
MAr 10, 2005
Bay View Children's Center in Seaside buzzes with activity weekdays around 7:30am, when the preschool welcomes around 230 kids each day.
They're the lucky ones. They're the ones who, according to a recent report by California-based nonprofit Fight Crime: Invest in Kids, are less likely to become career criminals or to be arrested for drug crimes.
Their counterparts are the kids who can't get in—to Bay View and other preschools throughout Monterey County. These kids face waiting lists that will keep them home for anywhere from a week to a year, depending on the facility.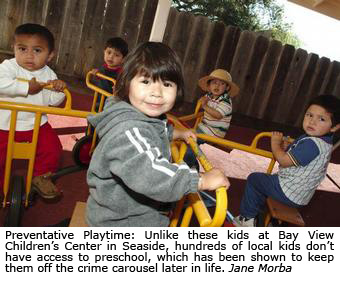 Bay View is not alone in its space crisis. In a statewide survey conducted by Fight Crime, 76 percent of all publicly funded preschools in California have waiting lists.
The number is slightly lower in Monterey County, where 74 percent of all public preschool programs endure waiting lists. This means more than 1,700 Monterey County children between the ages of three and five can't get into school.
Elizabeth Miranda of the Salinas City Elementary Preschool program says that out of nine preschool sites in Salinas, seven have waiting lists up to 25 kids long.
"Everybody waits," says Monterey Peninsula Unified School District's Preschool Program Director Alfredo Vasquez. "Right now, it's a couple of months."
At Bay View, that wait is around six months. Executive Director Dolores Gunia says the waiting has reached a critical point.
"The kids who are out waiting don't have the benefit of the preschool program," Gunia says. "They have to have preschool. It teaches fundamentals, including socialization. The earlier they begin, the better prepared they are for elementary school, the better they do, and the more likely they are to stay out of trouble."
Research backs up Gunia's philosophy.
According to the Fight Crime study, by the time adults who didn't attend preschool as kids reached the age of 40, they were twice as likely to become career criminals, twice as likely to be arrested for three or more violent crimes, four times more likely to be arrested for felony drug offenses, and seven times more likely to be arrested for dangerous drug use.
"We're probably right in those same kinds of percentages," says Salinas Police Chief Dan Ortega. "You look at the kids that are most at risk, and those are the kids who didn't or couldn't go to preschool. We know through our own experiences and statistics that we get the best results, long-term, from kids when we start at a very young age, elementary school or even before that.
"What we're finding is that kids' propensity to get into trouble starts at an early age, and we know now and have seen that through early intervention and education, we can stop that cycle."
Gunia agrees with Ortega's assesment. Because Bay View gets a portion of its funding from the Proposition 10 Tobacco Tax, the school is mandated to do long-term tracking. She says the school's tracking shows that children who attend preschool enjoy more success.
"We've looked closely to see that there's been an impact once students leave our schools," Gunia says. "They're telling us that kids are doing much better. They're ready to be where they are. They know the basics that the elementary schools simply can't take the time to teach."
. . . . . . . . . . . . . . . . . . . . . . . . . . . . . . . . . . . . . . . . .
When it comes to sending its kids to preschool, California lags behind the national average. Private preschool is expensive, and there simply isn't enough money to meet the statewide need for free or partially-funded programs, which serve low-income kids.
Because of a lack of overall funding, only 250,000 of the 600,000 children eligible for preschool assistance will ever see the colorful insides of a preschool classroom.
The Fight Crime report offers recommendations on both state and federal levels, including expanding preschool programs, increasing federal funding for state preschools, upgrading their quality, and denying cuts to the California childcare system that threaten to further reduce preschool access.
It's not a cheap solution. But Fight Crime points out the statistical alternative. In one pilot program, preschool-educated children "saved more than $17 for every $1 invested, including more than $11 in crime savings."
"In other words," the report says, "not only do quality preschool programs cut crime and boost academic performance, but California's failure to provide access to these programs costs taxpayers money."
To save money in the long run, however, taxpayers are going to have to spend it in the short-term.
The needs, according to educators, are quite rudimentary.
"It seems simple, what we need," Vasquez says, "We need more schools. We need more Head Start programs. We need more money to make it all work."
Miranda agrees.
"It's true that education begins at home, but we expose them to components they need to succeed in just the first few years, through kindergarten and beyond: their name, their address, their phone number, the recognition of letters and numbers," Miranda says. "In the very broad picture, they're just all-around more ready. They can't help but do better than those who don't have the opportunity to attend preschool like they did."
For Gunia and the hundreds of children who walk in and out of her center each week, it's about a tried-and-true opportunity for a lucky few. "I've been in this business for 30 years," she says. "Preschools just get better over time. Our children are not only required to progress, they're tested regularly to ensure that they do."
For now, however, more than 1,700 Monterey County kids won't have the opportunity to take those tests, to show off their numbers and colors and letters. They won't be in school that day. And there's no such thing as a make-up exam for the toddler years.
Articles reprinted courtesy of Monterey County Weekly
© 2005 Milestone Communications Inc. All rights reserved.