One Step At a Time
Salinas starts toward creating a walkable community.
by Brett Wilbur
Sept 23, 2004
On the morning of Oct. 6, children heading to school in north Salinas' Creekbridge subdivision will follow quiet trails from their homes, which link to wide sidewalks shaded with attractive trees and shrubbery. They will pass the neatly maintained John Steinbeck Park next to the elementary school of the same name. Across town, on the east side of Salinas, kids participating in the Oct. 6 "Walk to School Day" event will likely navigate streets with no sidewalks to thoroughfares like busy North Sanborn Road, where they will find that there are no longer crossing guards to help them. In front of the Jesse G. Sanchez elementary school, there isn't even a traffic light to stop cars on the four-lane road.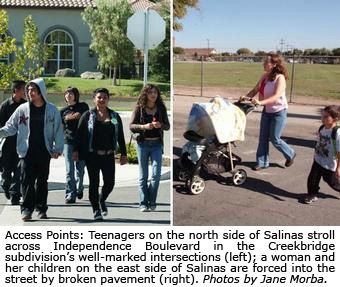 On the east side, those participating in Walk to School Day will do so at their own risk.
While the idea of encouraging Salinas kids to walk is nothing new, the timing is significant. The need to reduce the reliance on cars, for both physical and psychological health, has caused policymakers to call for safer streets where ten-year-olds don't have to dodge cars just to get to school.
The city of Salinas has just released a pedestrian plan, and the Monterey County Health Department (along with 55 other local agencies) has just released a policy brief on making the city more "walkable." The reports note both the necessity for pedestrian-friendly neighborhoods and the very real obstacles to walking in a car-centric world.
On a Tuesday afternoon just after 3pm, a teenaged girl takes two children by the hand outside of the Jesse G. Sanchez School and darts through the traffic on Sanborn Road towards a strip mall. The cars and trucks do not slow down.
A few blocks away, a woman pushes a baby stroller into the street to avoid a "street closed for repair" sign. Without a ramp, she must wrestle with the stroller while trying to hold onto her two other children walking beside her.
On Sanborn, James Serrano drives a dusty Crown Victoria past two men sharing the weight of a case of Budweiser. Cars whiz by the dirty strip of sidewalk. Serrano, the assistant transportation planner for the city of Salinas, is scouring the streets—noting elements that could be put in to help make the area more walkable: like more traffic lights, more ramps for wheelchair or stroller access, narrower streets that slow traffic down, wider sidewalks, attractive plantings, wide crosswalks, and buffers from cars.
Serrano says that the Pedestrian Plan will require all new growth in Salinas to incorporate these elements—elements that, he says, add up to make a community more "livable."
"It's groundbreaking for pedestrians," Serrano says. "Livable, walkable communities mean easy access to transportation, job centers and commercial centers." The plan, typically known as New Urbanism, hopes to lead away from spread out, motorist-friendly communities popularized in the post WWII period, and instead head back to the walker-friendly design of traditional American cities. It's a movement.
"The idea is to not create sprawl," Serrano says, "but to preserve agricultural land and bring back old neighborhood designs."
Bob Chauncey is director for policy analysis at the National Center for Bicycling and Walking in Bethesda, MD. Chauncey, who's coming to Salinas next month to lead a workshop on walkable communities, says that living in a walkable community is both enjoyable and good for mental and physical health.
"Places that are walkable and bikeable are places where there are fewer public health problems, less obesity, fewer heart problems, fewer upper respiratory problems, less air pollution, and less stress," he says.
Chauncey says that in order for people to lessen their reliance on the car, communities need to be designed to invite walking.
"People need to feel safe, they need to feel welcomed, they need to feel encouraged to walk," he says. "The areas need to be clean and lead somewhere enjoyable."
And when walking is made to be a pleasant experience, Chauncey says that something more can happen. People start to develop a more fine-tuned sense of where they are by experiencing their environment on foot rather than in a car, which in turn can lead to developing deeper connections with their neighborhood.
"The idea of sociability and being able to walk and see your neighbors lends a sense of place, a sense of community to the area," he says.
But it seems for many Salinas neighborhoods, the idea of friendly communities where all one's needs are but a stroll away is in the distant, if nearly impossible future. Right now, it would be a significant improvement for residents to be able to cross the street without a major risk of injury.
. . . . . . . . . . . . . . . . . . . . . . . . . . . . . . . . . . . . . . . . .
Christine Moss is the Health Department's coordinator for a county-wide nutrition project and point person for the just-released policy brief on walkability. The report, which surveyed walkers in Salinas as well as Watsonville and Hollister, found that despite an ideal climate for walking, people don't feel particularly safe in doing so.
"In Salinas we were able to pull out different [results] by zip code," Moss says. "There was a real difference between neighborhoods. Loose dogs and 'scary' people were the things people worried about the most when walking."
When Moss and Serrano realized their similar goals, the two joined forces, sharing information and planning strategies. "We are looking at the pedestrian plan from a transportation perspective, and Chris is looking at a walkability plan from a health perspective," Serrano says.
Both share concerns over poor community health—Moss' report points out that sedentary behavior costs Salinas more than $61 million a year, and that childhood obesity has tripled in the past 20 years.
"Walking is the one thing that people are likely to do for a lifetime," Moss says. "It doesn't require a gym membership, you don't have to be a jock, and you don't have to wear spandex.
"A lot of the schools don't have PE anymore, and kids come home and lock the door until mom gets home from work."
But with a $9 million city budget deficit eliminating programs like crossing guards, retrofitting a city for pedestrians is no easy task. "We are in dire times with the budget," Serrano says, "but we are still trying to get grants."
Last week, City Councilmember Sergio Sanchez faced a group of angry parents who are working on a petition to improve traffic safety. Although many have already organized into parent patrols, they are furious that the city council recently eliminated the $300,000 crossing guard program. Sanchez, who represents District 1 in east Salinas, says that he is upset as well. He says many of the residents in his district do not have the luxury of choosing between walking and driving: they simply do not have access to cars.
"My district has the most population in the smallest area, and obviously we have a lot of families and young people and moms and elderly who don't have vehicles," he says. "The places where you see the most people walking in Salinas is east Salinas. We had 100 people here last [week] telling us they are scared of crossing the street. It was very legitimate fear."
Sanchez also points to a grim truth regarding streets filled with speeding cars: drive-by shootings can happen more easily.
"On Siever Avenue and Pacific, where shootings are happening, people can just speed through," he says. "The residents want to be able to slow down the traffic with speed bumps and stop signs and not have the streets be two-ways."
Sanchez says that little improvements, like widening narrow crosswalks, are probably the most that residents can hope for, for now.
"Obviously the money is not there, so at least we can help people cross those huge streets," he says. "Longer investments are putting in [traffic] lights. We want to put one in Sanborn in front of the schools, but they are a quarter of a million dollars apiece."
Sanchez is upset about the irony that those needing the walkable communities the most are the least likely to have them.
"You see Creekbridge and it's so pretty, but people don't walk there," he says. "They have cars."
He says that on the east side of town, people live 24-hour-a-day lives, on foot, at their own peril.
"Try to drive through Sanborn, Alisal, Market or Williams at nighttime and see how dark it is," he says. "You could almost hit somebody. You don't see them. You just see a shadow going by. Our community stays up all night. You have workers walking at 2 or 3am getting ready to be picked up on the buses. And people drive so fast."
. . . . . . . . . . . . . . . . . . . . . . . . . . . . . . . . . . . . . . . . .
In Salinas, 12 out of 15 of the most dangerous intersections are located within one-quarter-mile of a school.
Serrano says that at the very least, traffic islands, or "refuges," can be inserted in the middle of the busiest streets.
"A person can judge two lanes of traffic," Serrano says. "But beyond that, it's hard."
Serrano says block grants that fund inexpensive modifications like repainting crosswalks can slowly make change happen.
"Traffic calming" devices, which slow traffic and therefore reduce the likelihood of fatal accidents, are also crucial. A pedestrian who is hit by a car going 45 mph is 85 percent likely to be killed, while a pedestrian hit by a car going 30 mph has a 45 percent chance of receiving a fatal injury.
Simply extending curbs at corners narrows streets, forces cars to slow down, and creates a shorter intersection for pedestrians to cross.
. . . . . . . . . . . . . . . . . . . . . . . . . . . . . . . . . . . . . . . . .
Vince Di Maggio, vice president of planning and development for Creekbridge, worked with the city to implement guidelines like traffic calming design for future developments. He says that designing these safer, walker-friendly communities is not more expensive, although costly holdups can result from trying to get these projects through conventional zoning ordinances.
Di Maggio says that by keeping people close to their daily destinations, a real neighborhood is created.
"People's daily needs—working, schooling, playing—need to be within a maximum of a half a mile from the center of a neighborhood, " he says. "There is a difference between a neighborhood and a subdivision."
And in creating "neighborhoods," there's a financial boon for developers. Chauncey says that homes in walkable communities usually sell for more money.
"The local economy tends to be better and is more likely to attract tourists," he says. "Once a community gets to be attractive, real estate values go up, and it's more encouragement for infill development rather than sprawl. You don't have to bring utilities out to the middle of nowhere, roads out to the middle of nowhere, bus kids back-and-forth to schools."
Serrano says that the "mixed-use" design of Creekbridge's new shopping center, plus its easy access to the nearby homes, creates a neighborhood feel. Next to a Safeway store are retail businesses topped by apartments. Bike lanes on the street and walking trails from the nearby homes lead to businesses.
"In most malls, there is a moat of parking and a mall in the middle," he says. "It is not inviting for pedestrians."
"Ideally there would be more density, but it's got a good flavor of what we are hoping to achieve," Serrano says. "It's a paradigm shift: for the longest time folks focused on widening the roads, not focusing on pedestrians."
Another bright spot is Oldtown Salinas. Serrano points to the proposed location of a 14-story high-rise of apartments and retail shops going in a parking lot next to the Steinbeck Center.
"You're close to transit, government agencies, the Steinbeck Center, restaurants, movie theaters, shopping—you won't need a car," he says.
Serrano notes that the inviting storefronts, planters with seating areas, well-marked crosswalks that "bulb out" into streets, and pedestrian-scale lighting contribute to a comfortable sense of place.
"We hope to bring some elements of this into the new areas of town," he says.
In other parts of town, like a neighborhood by the Northridge Mall, would-be walkers are not so lucky. Serrano says that although as the crow flies, some homes may only be steps from the mall, the separated design of the community means walkers have to travel far out of their way to gain access.
"For those places, there is no cure," Serrano says.
Both Moss and Serrano are realistic that, for the most part, the newer areas of Salinas are going to benefit the most from the city's design goals.
"A lot of areas will not be able to change dramatically," Moss says. "But we will promote women's walking clubs, and make marginal, interim improvements until we can fix it."
Chauncey argues that turning old design into walkable design and preventing sprawl is doable, and worth the investment.
"Retrofitting is expensive in the short run, not in the longer term," he says. "You may not be able to eliminate sprawl, but you can certainly control it. If you are willing to say no to [sprawl], you can do this. You can."
Serrano is cautiously optimistic.
"I'm hoping it works," he says.
Articles reprinted courtesy of Monterey County Weekly
© 2004 Milestone Communications Inc. All rights reserved.