Weaving to Independence
Triqui women face daunting challenges to survival
by Brett Wilbur
First printed in Carmel Magazine, Winter 2006 issue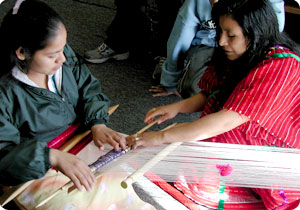 The woman has worked in the fields twelve hours today, maybe more. She is tired from cleaning her home, scraping together ingredients to prepare meals, and taking care of her children. But she kneels on the floor, her long black hair touching the ground. She wraps one end of her loom around her waist; the other end is attached to a doorknob or a post. She forces pieces of wood that she has shaped between the strings of the loom, and in the shadows, in careful movements with her fingers and colorful yarn, she begins to weave.

The woman is living in Greenfield, although she does not speak English or even Spanish. The weaving is a link to her past, her cultural heritage, and offers some comfort in her isolation. The woman is a Triqui, part of a small group of indigenous people from the state of Oaxaca in Mexico. Badly persecuted in their own country, the Triqui have been arriving in small but steady numbers to the US, where they are also vulnerable to discrimination.
"They are doubly discriminated against," says Karina Lehrner, a program officer at First 5 Monterey County, who volunteers her time to help the local Triqui. "They face discrimination by Mexicans here. They have different physical characteristics: they are shorter and have darker skin."
Of the 100,000 or so Triquis in the world, there are approximately 2 to 5,000 in Greenfield. The number appears to be growing, especially in King City, although there's no sure way to tell.

"There is no good data," Lehrner explains. About four years ago, realizing that the Triqui were suffering from poverty, isolation, and lack of services, Lehrner, then at the Citizenship Project, helped some Triqui women form a weaving collective known as Las Mujeres del Sur, or Women of the South. Learning of the women's strong desire for self-sufficiency and their talent for weaving, Lehrner helped arrange small grants for the women to purchase yarn and other supplies, through groups like the Community Foundation of Monterey County.
"There was an unusually bad harvest season and most of the men had gone to find work in the Imperial Valley, leaving behind the women and children," Lehrner says. "Some of the Triqui community members came into the Citizenship Project office and explained they were going hungry, had no medical care, were giving birth right out in the open, and we responded in a campaign to the county. We raised $4000 in a few weeks. But this group of women, rather than simply buying food, self-organized. They said, this is a pot of money we need to guard in case this happens in the future."
Now the women get together and weave bolsas (bags), gabanes (dresses), scarves, blankets, baby wraps, bracelets and more. What little profit is made is put into a collective pot to purchase more weaving supplies with, and a small amount is set aside as an emergency fund.
The security net is tiny; the women may spend six months to a year weaving a delicate soft shawl, only to sell it for $200 or less. But Lehrner explains that the women weaving creates something more than just money.
"There's a social peer-to-peer network being formed," she explains. "It's an excuse for them to get together."

Although the goal is to get the women to sell more goods for greater profit, there are huge cultural obstacles to overcome. Most of the women have no form of transportation, they have no easy way of communicating with the public, many of their husbands don't want them to leave the home to participate in public life, and they work six days a week. There is also a great deal of fear involved. Last year, the women left some of their goods to be sold in a Salinas store. The store went out of business and their crafts disappeared. "Now they are afraid to leave their products anywhere," Lehrner says.
Silvina Candia, a graduate student at the Monterey Institute of International Studies, is working with Lehrner to find venues that work for the women. So far, the Marina Farmers' Market and CSU Monterey Bay have shown their wares.
"We are trying to find a sustainable way to sell their products," Candia says. "We want to build relationships with stores or vendors that are more consistent."
It's a very steep uphill battle, which is why Lehrner is taking her own time to keep helping the women.
"They are very conscious of their own demise," Lehrner says. "They are very intelligent and stuck in the role of third class citizens. They left behind a lot of persecution that it is not acceptable for them to talk about, but they have come to the land of opportunity and found it's not so easy. The problems seem endless."

For information about purchasing crafts made by local Triqui women, contact Silvina Candia at (917) 817-6488.

Making Kids Count
June, 2006
Pulling at Art Strings
May, 2006
Grown Up and Proud
Sep 22, 2005
Deep Lessons
Jul 14, 2005
Learning to Live
Apr 14, 2005
School of Life
Mar 17, 2005
Everybody Waits
Mar 10, 2005
We Are Not Barbie
Jan 20, 2005
All In Her Head
Jan 20, 2005
Born To Run
Jan 20, 2005
One Step at a Time
Sept 23, 2004
Gang War Escalates
Sept 02, 2004
Bad News for Local Women
June 03, 2004
Cycle of Support
Oct 16, 2003
Venture Philanthropists
July 10, 2003
Class Acts
June 19, 2003
Hard Times
Dec 12, 2002
Dirty Dancing
July 25, 2002
Hooking Up
July 25, 2002
A Numbers Problem
Sept 06, 2001
Healing Properties
Dec 21, 2000
Teach Your Children Well
Nov 09, 2000